What Does Order Fulfillment Mean?
Having a reliable order fulfillment process can expand an eCommerce business's customer base as well as maximize the opportunities for repeat purchases.
Our guide to order fulfillment will help you better understand what order fulfillment means . In addition to explaining the order fulfillment meaning , we'll outline the steps involved in product fulfillment and how to improve the order fulfillment process .
What Is Order Fulfillment?
Here's what order fulfillment means: it is the process businesses use to receive, package, and ship an order to a customer. It's an essential aspect of eCommerce and retail businesses and plays a crucial role in the overall customer experience .
When a customer buys a product in an online environment and their order is received by the retailer or distributor, the business initiates the order fulfillment process , which includes all the steps involved in getting that order to the customer.
Having a well-defined and efficient order fulfillment process is important for several reasons including:
Increased scalability: Serve more customers in less time by developing an efficient fulfillment procedure based on order volumes .
Improved customer service: Leave customers with a great impression and encourage higher rates of repurchasing.
Reduced operating expenses: An optimized order fulfillment process saves businesses overhead costs like shipping , labor, inventory storage, and more.
eCommerce businesses continually look for better order fulfillment strategies . One key aspect of streamlining the order fulfillment process is to identify solutions for shipping packages more efficiently, such as in batch orders or through strategically located fulfillment centers .
How Does the Order Fulfillment Process Work?
Depending on the type of business, order fulfillment can range in its complexity. Smaller retailers serving a narrower geographical region will follow a much simpler order fulfillment process than a global manufacturer serving customers around the world.
Below is a general order fulfillment process that most eCommerce businesses follow.
1. Receive and Store Inventory
Order fulfillment begins before a customer ever places an order. Retailers and distributors must first ensure they have the goods available in inventory to sell to customers online.
Businesses must not only know which goods to carry and how many units to store, but they also need to have knowledge of correctly storing inventory so that it's conducive to fulfilling orders quickly. Inventory storage considerations include the frequency of items ordered and expiration dates.
2. Process Customer Orders
Once you've listed your goods for sale on your eCommerce website, the items are then made available for customers to buy. When a customer purchases goods from your online store, you'll receive an order request in your order management or warehouse management system.
The next steps in order processing may differ depending on the size of your organization, the type of goods, and how many orders you process at once. Regardless of the specific process, generally, this step involves preparing warehouse staff to pick the items for the order.
3. Pick Order Items
Once the order is processed, the warehouse team will get to work picking the items that go into each customer's order . How goods are picked depends on the inventory management system, the warehouse design, and the available technology.
Picking can be done manually or it can be semi- or fully automated, such as with conveyor belts or robots.
4. Pack Customer Orders
Once all the items for the customer orders are picked, they are typically assembled at a central packing location. Warehouse staff will reference a packing slip for each order, which will confirm which items go into which shipments.
When packing the orders, staff must verify that the order is correct and that there are no missing or extra items. This step is essential to ensuring proper inventory management and accurate stock counts.
5. Ship and Deliver Orders
Once the orders are picked and packed, it's time to prepare them for shipping. Getting orders ready to ship involves ensuring they are properly packaged and labeled so they arrive at the correct location safely.
After packing and shipping orders comes the final delivery. Order delivery requires precise coordination with other supply chain partners, including freight companies and delivery trucks, as well as customs brokers and other considerations for international shipments.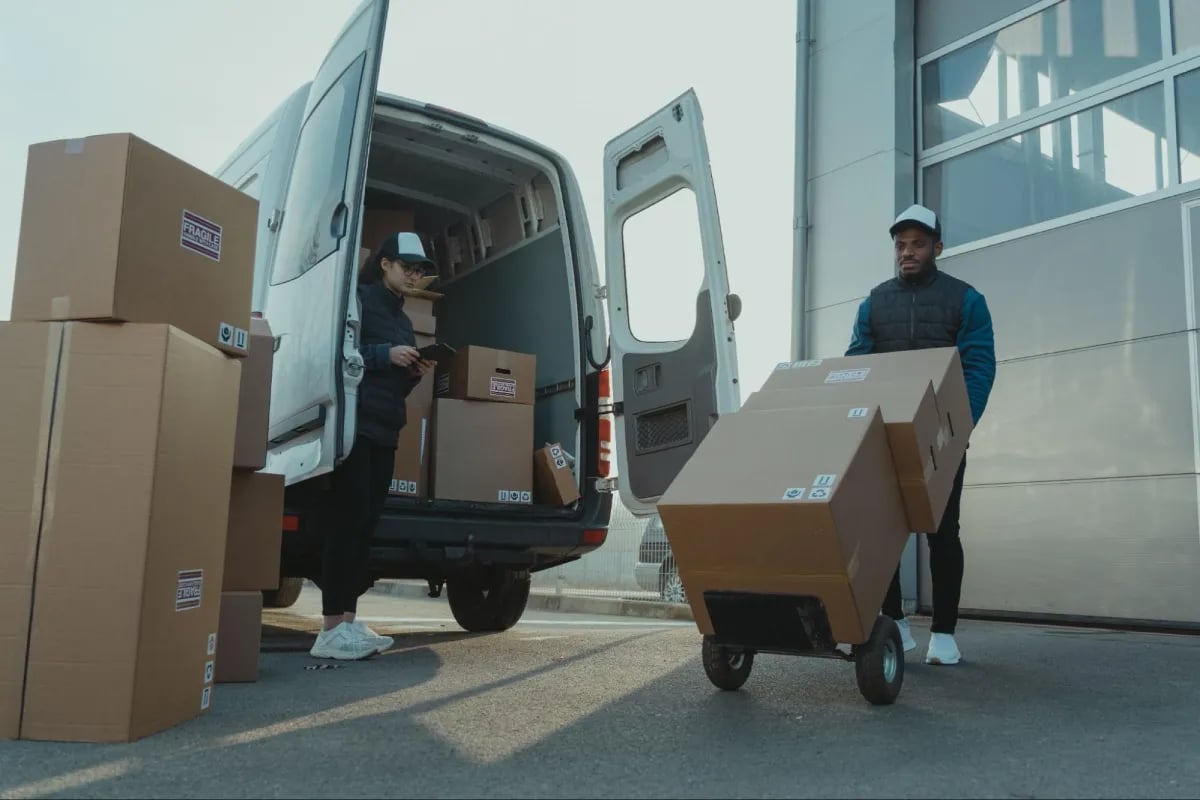 Image Source: Pexels
Types of Order Fulfillment Models
Fulfillment order meaning can also refer to the types of order fulfillment models businesses use to ship the product to the customer.
Below are the most common types of order fulfillment models and how they compare:
In-house order fulfillment: When all steps are completed by the seller, order fulfillment is said to be in-house. Also known as merchant fulfillment, in-house fulfillment is suitable for larger businesses with resources to maintain a warehouse and a skilled staff. Alternatively, it can be a good option for small, low-volume eCommerce businesses.
Third-party logistics (3PL) providers: When keeping the process in-house is not financially feasible, businesses can instead switch to outsourcing order fulfillment to 3PLs. Rather than renting or owning and operating a warehouse , businesses hire a third-party provider to store, pick, pack, and ship the items to the customers.
Drop-shipping: Similar to the 3PL option, drop-shipping removes the order fulfillment responsibilities from the seller. In a drop-ship model, the manufacturer or distributor ships directly to the customer without the seller ever handling the product.
Third- party logistics and drop-shipping are good options for new businesses or ones experiencing rapid growth. They offer a low-risk solution that doesn't require storing inventory on hand and can scale up or down in response to business activities.
3 Tips for How to Improve the Order Fulfillment Process
Streamlining order fulfillment is critical to preserving and strengthening relationships with your customers and suppliers.
Below are the top tips on how to improve the processes of fulfillment on an order.
1. Establish Supply Chain Partners
Whether you handle order fulfillment in-house or through a 3PL, your business will still need to rely on supply chain partners at some point, whether it's during fulfillment or for shipping and delivery.
Establish strong partnerships early on and integrate your supply chain providers into your WMS, ERP, or other business systems.
2. Set Realistic Customer Expectations
It's important to align your order fulfillment capabilities with the promises you make to customers. A recent survey found that 62% of retail customers expect their orders to arrive within three business days .
Though customers have high expectations of delivery times, businesses can help set their customer relationships up for success by promising realistic shipping timelines from the start.
If at any time an order becomes delayed, ensure you communicate this with your customer as quickly as possible.
3. Choose the Right Order Fulfillment Model
Whether you're a growing startup or an established eCommerce enterprise, it's essential to adopt the right order fulfillment model for your business.
Not all models are right for every business. Consider unique factors such as the location of your customer base and the size and volume of goods you sell. These factors greatly influence the costs of storing and shipping inventory, which may be reduced by outsourcing order fulfillment .
Outsource Order Fulfillment Services to The Fulfillment Lab
Reduce your order fulfillment costs and optimize your supply chain processes by outsourcing order fulfillment to a 3PL.
The Fulfillment Lab is a 3PL provider of order fulfillment services, including fulfillment marketing, on-demand services, and customized order packaging.
Our team of fulfillment experts can handle all your order fulfillment needs under one roof, from inventory management to kitting and assembly to custom packaging with tags and inserts.
Contact us today to learn more about partnering with The Fulfillment Lab.
Feature Image Source: Pexels