How to Grow Your Business With Ecommerce Order Fulfillment
Taking advantage of your ecommerce order fulfillment process allows you to deliver a satisfying customer experience to create a positive impression of your ecommerce business. This, in turn, helps your business grow and thrive.
But what is the order fulfillment process, and how exactly can it support your business? Here you'll find the details that go into order fulfillment, the strategies available, and how this can help your business grow.
What Is Ecommerce Order Fulfillment?
Ecommerce order fulfillment refers to every step used to 'fulfill orders' for an ecommercebusiness. This includes the steps from stocking inventory to the delivery of an order. It even includes the process your business uses for returns and exchanges.
Essentially, it's how your product goes from inventory shelves to your customers' hands.
The fulfillment method you use has a direct impact on your customer experience. Not just in physically delivering a product but also in your product pricing, shipping fees, shipping times, and the unboxing experience.
Creating a great customer experience is a key component of growing your business. In fact, 86% of customers are willing to pay more for that great experience.
What Is the Ecommerce Order Fulfillment Process?
In general, the order fulfillment ecommerce businesses follow can be broken down into five steps:
1.Receiving Inventory
This is the first step in ecommerce business, as you need inventory to sell. Whether this is from the supplier or manufacturer, this step is when inventory is collected and itemized.
Products are given a unique identifier, like a barcode or SKU, to ensure accurate inventory and that all items have been received.
2.Organizing and Storing Inventory
Once inventory is received and counted, it needs to get organized and stored to make future order processing as efficient as possible. Products can be sorted by category and/or by SKU/barcode.
How and where products are stored will vary based on your order fulfillment strategy.
For example, if you're processing an ecommerce order yourself, you'll need to find a storage space you and your team can easily access and use.
If you're sending your inventory to a third-partyfulfillment center, your items will be stored in their warehouse.
(Don't worry, we'll get into the details of these different methods shortly.)
3.Order Processing
This step is put into action when customer orders come in. It's the part of the fulfillment process where the products are put together for customers. It involves the picking and packing of each product in the order and preparing it to be shipped.
If you use custom packagingor personalize orders for your customers, this is when that will be used and put together.
4.Shipping
Once items are packaged, they'll be shipped to customers. How you ship orders determines your shipping prices and times. This is an important part of your customer experience to consider as more than 60% of shoppers will abandon an order if the shipping cost is too high.
5.Exchanges and Returns
Returns processing will determine where the item is returned or sent for an exchange. It also determines what happens with the returned item (will it be reshelved, or will it be disposed of?).
Your returns policy is an important part of the customer experience and order fulfillment process. In fact, for 52% of customers, free returns are one of the items they look for in ordering online (preceded by delivery times and shipping costs).
The order fulfillment process has an undeniable impact on your business operations and costs. It also plays a role in how your business is perceived and your customer satisfaction levels.
It's easy to see how these work together to impact your business's growth and scalability.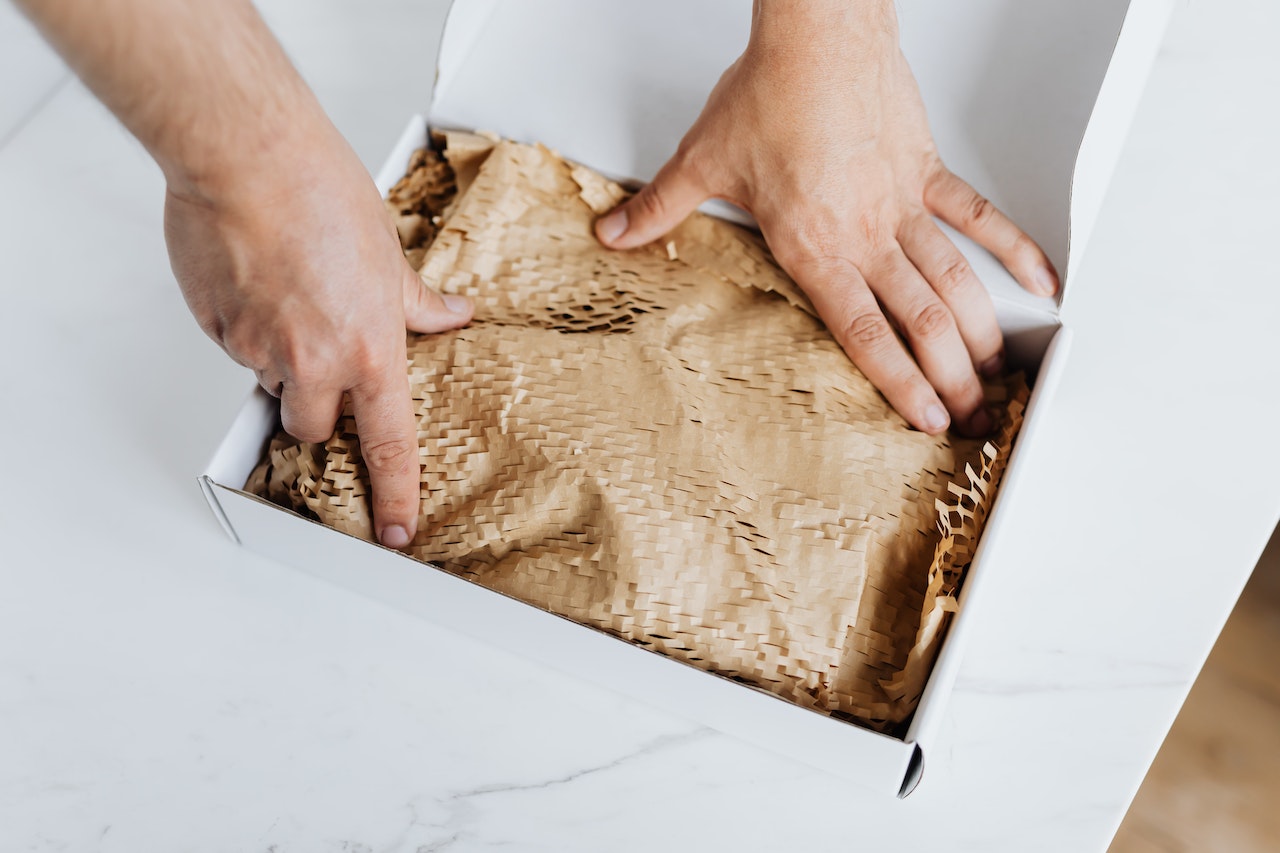 Source: Unsplash
What Are the Different Methods of EcommerceOrder Fulfillment?
Now that you know how ecommerce order fulfillment works, let's look at the different fulfillment strategies:
In-house fulfillment
Dropshipping
Third-party fulfillment
Each strategy offers its own advantages and disadvantages as you grow your business. When considering the different methods of order fulfillment available, consider their wider impact on your processes and customer experience.
These will help you make an informed decision for your business.
In-House Fulfillment
This fulfillment strategy is one where you take on all of the order fulfillment processes from your place of business. You may also hear it referred to as merchant fulfillment or self-fulfillment.
Consider that you'll need:
Storage or warehouse space
Packaging materials (boxes, tape, paper, bubble wrap, etc)
Labeling and printing supplies
Shipping courier plan/postage fees
A method of tracking inventory
Insurance should anything happen (like a natural disaster)
As your business grows, you'll also need to consider adding a warehouse team, warehouse equipment, and more to this list.
In-house fulfillment is a great option for low order volumes and allows you to have control of inventory, picking and packing, and shipping abilities. It also offers the ability to customize packaging appearance and experience as you'll have full control of this process.
However, it's difficult to keep up with quick and low-cost shipping fees that have become a customer expectation for 83% of shoppers. It also takes time away from other business operations when using this order fulfillment method.
Dropshipping
This is a great option for new businesses as it doesn't require any work on the order fulfillment front after the order is made. The order goes to the manufacturer and they then take on the order processing and delivery.
With dropshipping, it's easy to create a large product line as there are low costs associated with setting this up. The dropshipping company holds all the products all you need to do is bring sales.
While this is a lower risk, this option presents little control for business owners and a low profit margin of 15-20%. You have no control of inventory, the packaging, or the shipping process.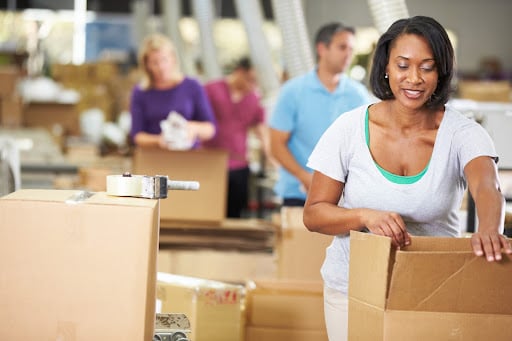 Source: DepositPhotos
Third-Party Fulfillment
This strategy is also commonly known as third-party logistics (3PL). This is another option for outsourcing order fulfillment as it takes on all of the order fulfillment processes for businesses.
Third-party fulfillment agencies hold your business's inventory in their own warehouse or warehouses, and when orders come in they process everything. They pick and pack products and will ship items out. They even handle returns and exchanges as needed.
Third-party fulfillment centers can help:
Save on order fulfillment fees (including receiving, storage, and shipping fees)
Be

insured in case of events beyond your control

like natural disasters and labor shortages
Maintain faster delivery times, which meets customer expectations
Offer real time order tracking to your customers
Developcustom packagingthat impresses their audience with a unique and enjoyable

unboxing experience

that increases customer satisfaction
Take focus off of shipping and order processing, allowing you to focus on other essential parts of operating your business
Of course, not all 3PLs are built the same. You want to be sure that the fulfillment center you select offers the fulfillment services that your business needs. You also want to be sure that it can integrate with your ecommerce platform and deliver the customer experience you're aiming to create.
How to Choose the Best Ecommerce Order Fulfillment Method for Your Business
When it comes to choosing the order fulfillment strategy that works for your business and meeting your growth goals, you want to keep in mind several factors:
Delivery times & shipping costs
Location
Order volume
Customer experience
Software integration
Time & resources
Let's dive into each to see how they impact your order fulfillment strategy.
Delivery Times and Shipping Costs
With ecommerce giants like Amazon normalizing two-day delivery at lower prices, customer expectations have shifted.
48% of shoppers won't complete their order if they find the fees too high, and 22% don't complete an order if delivery is too slow.
As an ecommerce business, you want to do your best to meet these expectations with options like free and fast shipping. Which comes with costs for businesses. These are usually addressed by:
Adding the shipping costs to product costs
Offering a flat-rate shipping fee
Offering minimum order requirement for free shipping
With an order fulfillment service like dropshipping or 3PL, the companies are sending out far more packages than a single ecommerce business. This allows them to get better rates from couriers which can help reduce the costs outlined above.
Interested in learning more about saving on shipping best practices? Read through these blog posts:
Location
When operating a business, where your inventory is stored and shipping from is important to consider. You want to be sure you're shipping from a location that allows for timely delivery to your customers.
Consider where most of your orders are being shipped to and the location(s) where your inventory is currently held. Does it make sense to have inventory stored in another place? Or, even in multiple places?
This allows you to increase order fulfillment speed when shipping customer orders. (And, as an added result, increase customer satisfaction.)
Order Volume
This is an important factor to take into consideration. If you have a low order volume, taking care of order fulfillment may be a practical option.
You'll also want to consider scalability or seasons of increased order volume as well.
Customer Experience
Delivery and shipping fees aren't the only things that impact your customer experience with order fulfillment. According to MyCustomer, more than 85% of customers expect guaranteed delivery dates, order confirmations, and regular delivery updates.
Beyond the shipping process, you'll also want to consider your ability to customize packaging, as over 70% of shoppers are influenced by packaging design.
Another area not to be overlooked is a return and exchange policy that your customers are comfortable with (because as noted above, more than 50% of shoppers take this into consideration when shopping).
Learn more about creating a great customer experience:
Software Integration
Does the platform you use allow you to connect your preferred inventory tracking method or integrate the new one you're considering? Being able to connect these things is essential to an efficient order fulfillment process.
Time and Resources
Do you have the time, space, and finances to take on in-house order fulfillment? Or, are you losing all your time to order fulfillment while other areas of your business are being neglected?
These are factors you want to carefully evaluate. Regardless of the method, order fulfillment takes up resources like your time and money. You want to be sure you're choosing a fulfillment option that gets you the most out of the resources you have at your disposal.
Supercharge Customer Experience Through Order Fulfillment
Your order fulfillment strategy impacts how your business operates and its ability to grow. Because of this, you want to look at the option that best meets your business needs today and helps you plan for its needs in the future.
Interested in learning how you can create a better customer experience that helps your business grow and thrive? Download our free ebook, 8 Customer Experience Metrics You Need to Know.
Featured Image Source: freepik