The 2023 Guide to eCommerce Warehousing
Your ecommerce business is starting to grow, and storing inventory in your home or garage is no longer giving you the convenience it used to. More and more business owners are making the move to ecommerce warehousing in their homes—a third-party inventory storage option that makes running business even easier.
With the ecommerce industry growing 23% each year, there's huge potential for your business to grow to meet increasing demand.
This is when outsourcing warehousing for ecommerce businesses becomes the next logical step. If you're new to the world of ecommerce warehousing, you may not know where to begin with the process, what options are available to you, and the best practices for online warehousing.
That's where this guide to understanding ecommerce warehousing comes in. We'll take a look at the what, where, why, and how of long termwarehousing for ecommerce businesses to help your business grow and succeed.
What is E-Commerce Warehousing?
eCommerce warehousing is best known as the way businesses store products that are to be sold online. Comprehensive warehousing for ecommerce covers storage and inventory tracking, as well as order fulfillment. Options for online warehousing vary from retailer-owned and operated or rented storage spaces, to fully outsourced fulfillment centers.
Why Businesses Use eCommerce Warehousing
In the early stages of running your online business, proper ecommerce warehousing and storage can be a problem. There's either not enough room, or inventory gets just downright chaotic. Businesses often opt to outsource their ecommerce warehousing needs as they grow. Simply put, it helps with inventory management, shipping time, and freeing up time to focus on growth.
Let's take a look at the key benefits of e-commerce warehousing:
Unlike living rooms or garages, warehouses are designed for the storing, picking, and packing of products. They're made for moving and managing inventory.
More Efficient & Accurate
Because warehouses are set up for managing inventory, your inventory can be more efficiently and accurately tracked to get products to customers and to keep tabs on your inventory levels. (And it becomes easier to restock inventory that might be running low.)
On top of this, with the right warehouse management system (WMS), you can integrate the information and inventory volumes directly into your ecommerce website.


Faster & Cheaper Shipping
Depending on where you choose to hold your inventory, you can reduce shipping times and costs for you and your customers. Oftentimes, ecommerce warehouses are in more central locations that make shipping to your customers faster and more streamlined. This saves you money by reducing delivery times for packages.
Housing inventory at centrally located warehouses makes partnering with shipping carriers more affordable.
These savings are excellent news for delivering on growing customer expectations for fast and cheap shipping times, as 88% of shoppers are more willing to purchase from a business that offers free shipping. On top of this, 50% of customers want fast shipping, with 3-5 days being the most acceptable wait time.
With your inventory in an easily accessible and tracked area, you can dedicate more time to your other business operations, like growing your online presence. You can reclaim even more time by outsourcing fulfillment and all warehouse operations entirely.
Better Customer Experiences
Customers expect fast, friendly service when they shop online. The majority of customers, roughly 65%, stop shopping with a brand because of poor customer service or experience.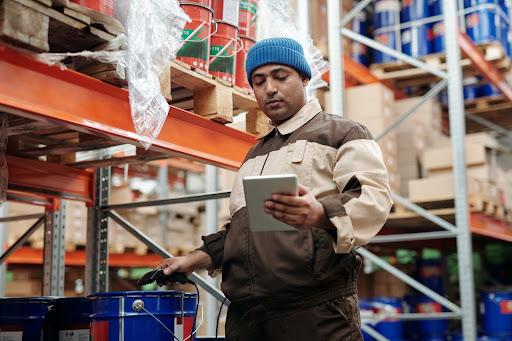 More accurate order packing, real-time order tracking, faster delivery times, and more time to focus on developing your customer experience all translate to an ecommerce journey your customers enjoy.
As your business grows, so will your storage needs. When you're already using warehousing space, it's easier to scale the amount of storage you have access to.
It's also possible to hold your inventory at more than one warehouse location, meaning you can make it easier to not only grow the amount of storage space you have on hand but to also geographically grow your customer base. With 57% of customers willing to shop internationally and overseas, having warehousing in the right places opens up your business to more potential growth.
Different Types of eCommerce Warehouses
When looking to outsource your warehousing needs, there are different ecommerce warehousing solutions to choose from.
Key warehouse and storage space types include:
These warehouses are also known as rented warehouses. These allow ecommerce businesses to rent the space they need to store and pack inventory.
These types of warehouses are typically owned by a larger company like a wholesale distributor or an online marketplace.
These types of warehouses are typically owned by multiple small businesses with similar warehousing needs.
These warehouses are where ecommerce packages sit while waiting to pay customs duties for international shipping.
These types of warehouses are run with the help of AI to take care of all warehousing needs, from sorting to storing inventory and packing and picking orders for delivery.
Distribution Centers or Fulfillment Centers
These types of warehouses are set up to meet all your warehousing needs from the storing of inventory to the order fulfillment process. It's not just outsourcing your warehouse storage, it's outsourcing all your warehouse operations.
Learn more about warehousing for ecommerce with these blogs:
Best Practices to Keep In Mind
When setting up your warehousing storage space, there are practices and tools you can use to help you better plan your inventory management. You can:
You can integrate your website and ecommerce warehouse management systems and streamline inventory tracking.
Setting up and integrating your WMS with your website is essential to ensuring a positive customer experience by reducing inventory inaccuracies and allowing you to keep tabs on product inventory.
Review Inventory Analytics
Review the inventory analytics through your WMS to make informed decisions about how much inventory to stock and when to restock items. This helps you prevent running out of products and losing out on sales.
Simplify Your E-Commerce Warehousing With The Fulfillment Lab
When you're ready to dive into the next stage of your ecommerce business, The Fulfillment Lab can help with all you need from ecommerce warehousing, from storage to order fulfillment. You only pay when your product goes out.
Book a meeting to build your business.