How to Choose the Best Ecommerce Fulfillment Services
Table of Contents
If you have an ecommerce store or small business with a website, one of the most essential parts of your daily operations is fulfilling customer orders. This process often becomes overwhelming as your business grows, leading to missed orders, shipping errors and dissatisfied customers. To create efficiency, you need expert fulfillment services for ecommerce.
There are many popular ecommerce fulfillment centers available to manage your customer orders. These companies take care of the order fulfillment process from beginning to end. Fast and accurate orders lead to happy customers. But with all the options out there, how do you choose which order fulfillment company best fits your business?
You may be thinking… Why do I even need an ecommerce fulfillment service? 90% of Fortune 500 companies in the United States currently use these services. Their mass popularity is an indicator of the significant benefits they offer your business. Let's explore what these services are and which providers are best in class.
What Are Ecommerce Fulfillment Services?
These services are provided by a third-party company, to fulfill a business's online customer orders. These distribution centers provide much more than simply shipping. They manage every part of the order fulfillment process:
Inventory storage
Processing customer orders
Managing inventory
Reordering stock
Warehousing
Picking and packing orders
Custom packaging for your brand
Shipping
Shipment tracking
Transportation
Returns and recycling
Marketing
Customer data collection and analysis
…and more.
What Benefits Can Ecommerce Fulfillment Services Provide for My Business?
There are many reasons companies take advantage of order fulfillment services. Working with a trusted provider helps you grow your business, make the most of your budget, and create loyal customers.
Ecommerce has become one of the largest sales channels worldwide. Ecommerce shopping now accounts for up to 20% of overall retail sales. The average shopper makes 19 online transactions per year. It is crucial to your success to have your ecommerce business running smoothly. Your customers are relying on it.
Reduce Expenses
Cost reduction is often the number one reason businesses turn to a third party to handle their order fulfillment processes. You don't need to rent or own warehouse space, keeping overhead low.
You don't have to create a distribution department and hire dedicated staff, eliminating the cost of training and salary for these workers. You don't need to work with multiple companies for the many different parts of the fulfillment process, creating one simple bill. You benefit from lower shipping rates, decreasing necessary expenses.
Using fulfillment services for ecommerce is one of the best ways to help your business cut costs. It also enables your employees to focus on other core areas of your everyday business activities, while enabling the experts to handle order fulfillment.
Boost Efficiency and Accuracy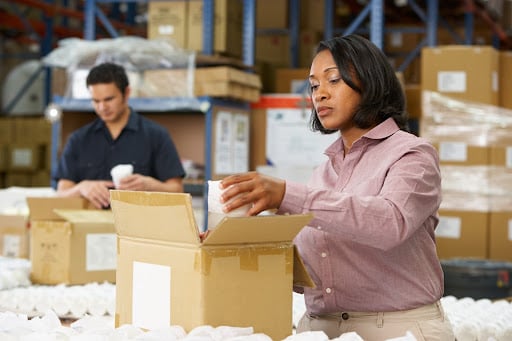 Source: DepositPhotos
Companies that specialize in ecommerce fulfillment services provide a level of knowledge and experience that businesses can't get if they are managing their own order fulfillment. They can fulfill orders much faster and more accurately than the average business trying to manage its own fulfillment internally.
These companies are experts when it comes to packaging and shipping, greatly reducing errors and product damage. They understand shipping costs and can work out lower rates with major package delivery companies. They have immaculately organized inventory, so they can locate products and ship out orders as rapidly as possible.
Increase Customer Satisfaction
Of the hundreds or thousands of potential customers visiting your website, a whopping 70% are abandoning their shopping carts before purchasing. When asked why, 22% listed slow delivery time as their main reason.
With free delivery and next-day delivery being two of the biggest reasons consumers shop online, your business needs to offer high-quality, high-speed shipping options.
Working with an excellent fulfillment partner will help you greatly improve shipping times, leading to higher customer satisfaction scores and repeat customers. These companies also improve tracking and some even provide custom-made packaging, creating a highly personalized customer experience.
Easily Scale as Your Business Grows
Ecommerce fulfillment centers offer built-in scalability. As your customer base grows and you get more orders, the fulfillment process becomes more complicated and requires more time and resources.
If you're trying to handle this process internally, it is often overwhelming. Your business can't keep up with customer orders, and staff are working overtime, leading to mistakes.
A third party company will help you maintain a high standard of order quality and fast shipping. They keep your ecommerce fulfillment on track, so you can focus on building your business.
Which Provider Offers the Best Fulfillment Services for Ecommerce?
Now that we've addressed how an external fulfillment center can help your online store, it's time to look at some of the top options available. Which provider you choose will depend on the size and type of your business, as well as your specific needs.
The choices may appear endless. Different providers have many different pricing plans. Some providers only work with enterprise businesses. Some do not offer international shipping. Some only operate in limited areas.
Although your needs will vary based on your specific product and industry, there are a few key differentiators to look for. These aspects help your business stand out from the competition.
Same-day shipping for received orders
High level of order accuracy
Detailed real-time tracking
Excellent client reviews
Flexible pricing plans and cost transparency
Detailed focus on your unique brand
Easy onboarding
Let's explore some of the best-in-class options. Features of each ecommerce fulfillment service provider may vary depending on which pricing tier you select. The following guide does not cover every feature of the providers listed.
1.The Fulfillment Lab
The Fulfillment Lab focuses on speed and unwavering accuracy. They guarantee 99.95% order accuracy, as well as same-day shipping for all orders received before noon. They offer a flexible pricing plan, and you only pay when your orders go out. Unlike some other providers, The Fulfillment Lab does not require a long-term contract.
One of their unique offerings is custom-branded packaging, coupons, labels and inserts. The Fulfillment Lab experts work closely with your business to design materials specifically for your brand.
From the first moment a customer receives your package, they immediately recognize your brand. This branding creates a special, memorable and shareable experience and builds customer engagement. Think… social media photos, unboxing videos and special occasions.
You can meet with one of their experts online to learn more.
What Do They Offer?
Real-time tracking
11 years of experience
Integration with many

top ecommerce platforms
Customer data collection and insights
Custom-created materials for your brand
Disaster recovery
No hidden fees
Competitive pricing
Domestic and international locations
2.Fulfillment by Amazon
Amazon has a service for just about everything, and ecommerce fulfillment is no exception. Since so many consumers use related services, such as Amazon Prime and the main Amazon retail website, this popularity gives the company an advantage.
They have knowledge about many types of products, and they have access to low shipping rates. Amazon is one of the largest and most profitable corporations in the world, and they benefit from years of experience in the ecommerce industry.
One thing to keep in mind, however, is that bigger is not always better. Although Fulfillment by Amazon is a major player, they lack the flexibility and personalized service of smaller ecommerce fulfillment providers.
As with any huge corporation, standards may vary from one warehouse to the next. They are doing such a high volume of business that some errors are inevitable, and quantity becomes the focus instead of order accuracy.
What Do They Offer?
Domestic and international locations
Potential bonuses/incentives for new sellers
Webpages for your brand
Integration with Amazon Prime
Free 2-day shipping for Amazon Prime customers
Automated price adjustment tool
3.ShipNetwork (Formerly Known as Rakuten Super Logistics)
ShipNetwork is a US-based fulfillment service center. They are a smaller-volume provider, and tend to focus on personalized service and building relationships with clients. They try to keep costs low, while staying competitive with larger providers.
ShipNetwork locations are all within the US and they have US-based customer support, so they may not be ideal if your business is internationally-focused.
What Do They Offer?
US locations
Integration with some ecommerce platforms
1-8 day delivery to most of the US, based on which priority plan is selected
Comparable shipping options to major providers
1-2 day ground shipping within the US for high priority option
4.DHL Supply Chain Management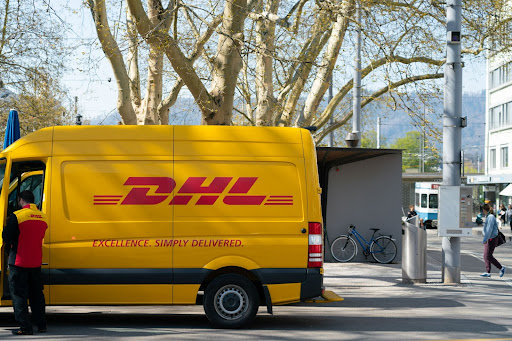 DHL is another big player in the ecommerce fulfillment service industry. They are a high-volume provider, with all the advantages and disadvantages that accompany such large providers.
DHL is a massive global company with years of experience and industry knowledge. They are improving their business through technological advancements such as augmented reality and robotics.
As DHL Supply Chain Management has a huge number of clients, personalized customer service often comes secondary to sheer volume of orders processed.
DHL may not be the ideal choice for small businesses. Startups and small ecommerce businesses tend to be more focused on building a loyal customer base through impeccable service and highly accurate orders.
What Do They Offer?
Logistics consulting and supply chain analysis
Domestic and international distribution
Temperature-assured transport
Data analytics
Real-time tracking
5.ShipBob
ShipBob is an ecommerce fulfillment services provider for direct-to-consumer brands. They operate in the United States, Canada, United Kingdom, European Union and Australia. ShipBob focuses on predictable, transparent pricing.
What Do They Offer?
2-day express shipping within the US
Global expedited shipping
Integration with many ecommerce platforms
Over 30 fulfillment centers in 6 countries
Some customized packing options
Free standard packing materials, such as tape and boxes
Data analytics
Bulk shipping discounts with major carriers
6.Red Stag Fulfillment
Red Stag offers most of the same standard services as other providers, such as warehousing, inventory management, shipping, returns management and so on. They focus on highly accurate ecommerce orders and payback guarantees if they lose or damage your inventory.
Red Stag has only two fulfillment center locations, both in the US. They may not have the capabilities for large-volume clients or clients with a more international customer base. Red Stag's same-day order processing cuts off at 5:00 p.m. EST, which may be an inconvenience for businesses in other time zones.
What Do They Offer?
Limited ecommerce platform integrations
Error rate of less than 0.02% for order accuracy
No long-term commitment or hidden fees
30-day risk-free trial
When Researching Providers, Keep in Mind…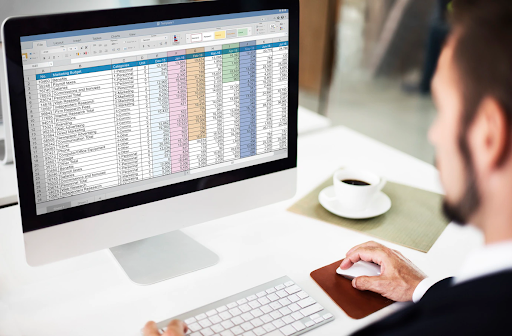 Source: rawpixel.com
Pricing and Hidden Fees
Although certain providers may have low prices or other incentives, some have built-in hidden fees to offset these seemingly "great deals". Make sure you know exactly what you will be expected to pay for, before you sign up. Ask about storage fees, inventory rotation fees, and any other additional costs you may face.
Fulfillment costs should be fully laid out up front, and they should be easy to understand. If you're not sure what a fee is for, ask follow-up questions. A trustworthy, reliable company will be able to explain their pricing in detail and guide you toward the best pricing plan for your needs.
Your Business Needs
Before choosing a provider, it's important to have a comprehensive understanding of your business's unique needs. A small startup will have very different requirements for fulfillment services for ecommerce than a large international business. Be prepared to discuss which core values you want to focus on.
Do you require international shipping?
Where is the majority of your business coming from?
Which ecommerce platforms do you need to integrate with (Shopify, Wix, WooCommerce, etc.)?
Do your products require specialty packaging or delivery options, such as temperature-controlled transport?
Which Provider is Right for My Business?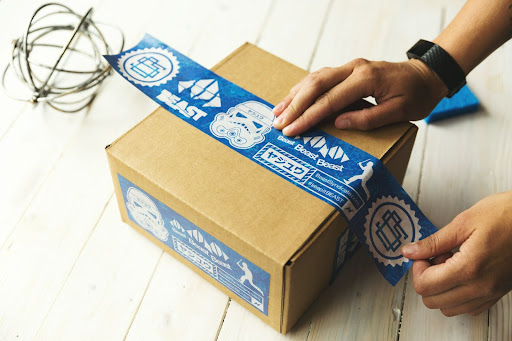 The list above is not a complete list of all ecommerce fulfillment providers. There are hundreds of options, and they each offer different services and pricing.
If you're unsure what provider best fits your needs, you're not alone. Our experts at The Fulfillment Lab are here to help and answer all your questions. We love our brand, but there's no pressure. We want to ensure you find the right provider for your unique business needs.
How We Help Businesses Ship Rapidly, Reliably
The Fulfillment Lab is a third-party logistics (3PL) and ecommerce fulfillment services provider. Our services are fully scalable as your business grows, and our core focus is on order accuracy and fast shipping. We have the best customer service in the industry.
Our team thinks outside the box… literally. Unlike many other providers, we work with your business to create highly memorable customized packaging materials for your brand.
Instead of a boring brown box, each of your customers receives a package every bit as unique as the contents inside. This personalization builds excitement and an immediate connection with your brand.
Book an online meeting with one of our team members to discuss your options.
Featured Image Source: DepositPhotos