5 Successful Affiliate Marketing Websites
Today, more than 80% of brands are using affiliate marketing programs to promote their products and services across a variety of websites. They do this by partnering with other companies who promote their products or services for a commission. So how do you get started? We'll show you how, with examples, and take a look at five great affiliate marketing strategies and associated websites.
What Is Affiliate Marketing?
We've talked a lot about affiliate marketing in our blog because it can be such a lucrative revenue stream. However, we don't want to beat a dead horse, and if you've landed here, you probably already know what affiliate marketing is; you just want to see it in action!
So, we'll keep our affiliate marketing definition short. Affiliate online marketing is when a company or blogger highlights another company's products or services on their website. If someone makes a purchase or visits the affiliate's site based because of these promotional efforts, the affiliate marketer earns a commission! It's really that simple.
How to Get Started with Affiliate Marketing Programs
Getting started in affiliate marketing simply means you need to identify complementary products and companies that offer them (for example, if you blog about homeopathic therapy, you may look for CBD companies with an affiliate program as it's a natural fit; you wouldn't, however, promote CBD on a technology blog, as that would just confuse readers).
Once you've found a good affiliate program and joined, you'll be given a unique code (often embedded in a link). When someone visits the affiliate's site, or makes a purchase, you get paid.
Below, you'll see an example from Men's Health. They've decided to highlight The 10 Best Fishing Rods and Reels for Every Guy's Budget. We've highlighted in green their statement about affiliate marketing. It's a good idea to be transparent about earning commissions, because most people can smell an affiliate program a mile away and prefer honesty.

Then, they simply include a BUY IT HERE button beside all ten rods that they've highlighted. If someone clicks that link and makes a purchase, Men's Health will earn a commission from the affiliate, FarmandFleet.com.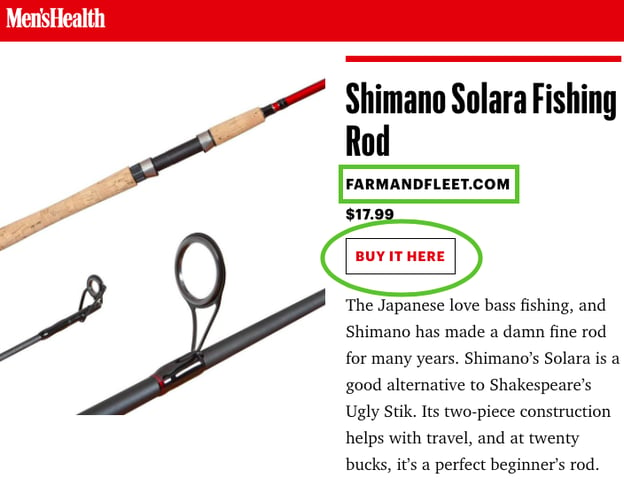 Here's one more good example showing the power of organic search results (using paid search to promote affiliate products may suck up too much of your commission). These placements are free but can require more extensive, high-quality content to gain traction in the rankings. That requires some good Search Engine Optimization (SEO), which is all about making your website as appealing as possible to search engines.
In this example, we see that someone has searched Google for the "best web platforms for small business." The first result, unsurprisingly, is a paid ad. But, some people will often skip past paid ads thinking they're not legitimate. Next up, then, is Business.org, which is not a paid placement. They got to this position through good ol' SEO.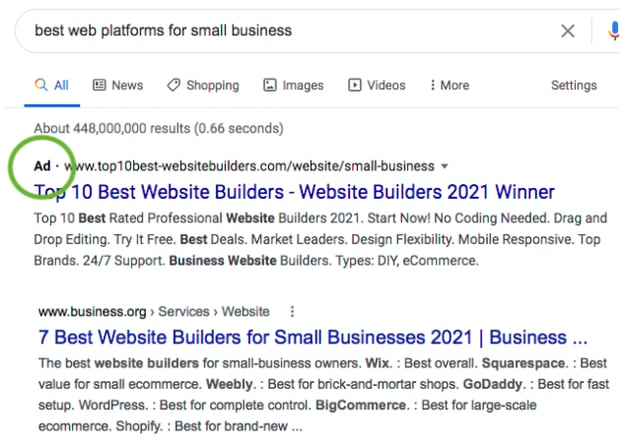 When you arrive on their page, you'll find dozens of comparison charts, each with links that, if clicked, will earn them a commission through either the affiliate's traffic boost or through a purchase.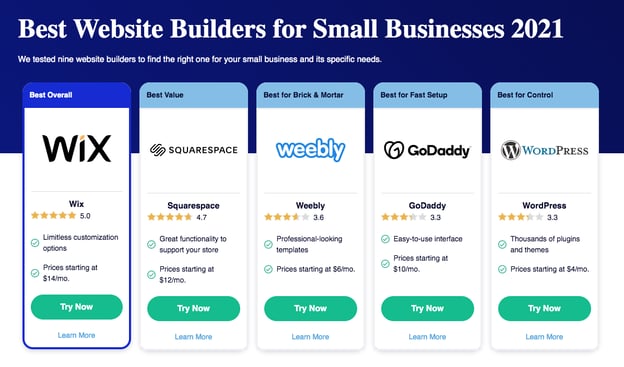 As noted before, it's a good idea to be transparent. This site includes a similar disclaimed to the one found on Men's Health:
"Our mission is to help consumers make informed purchase decisions. While we strive to keep our reviews as unbiased as possible, we do receive affiliate compensation through some of our links. This can affect which services appear on our site and where we rank them. Our affiliate compensation allows us to maintain an ad-free website and provide a free service to our readers. For more information, please see our Privacy Policy Page."
For a lengthier statement of transparency, check out this disclaimer found on a "Best Antivirus" ranker that pops up when you hover over the Advertising Disclosure: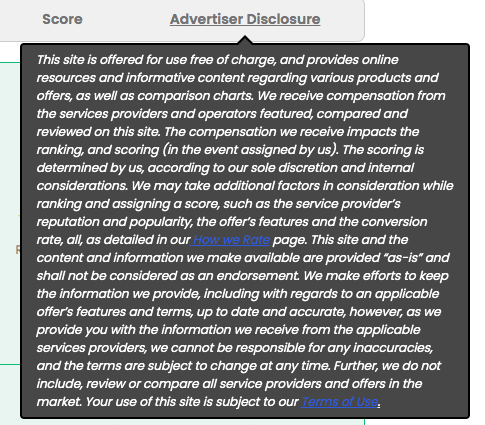 5 Best Affiliate Marketing Websites with Examples
Now that we've had a look at how to start affiliate marketing, let's take a look at some great affiliate marketing website examples that are out there. We've put them into five affiliate marketing models that many use to improve SEO ranking and commissions!
1. Aggregator Websites
Aggregator websites can be a lifesaver! They scour the internet for you to compare pricing on all sorts of products and services, saving you from having to visit dozens of individual sites on your own. One successful aggregator is Kayak.com, which searches for flights, hotels, and car rentals from all the major carriers and brands. When you purchase through Kayak, they receive a commission from the airline, hotel chain, or rental car company.

2. YouTube Channels
YouTube is the most visited website in the world, so it's a powerful tool for promotion. For your affiliate marketing strategy, you can use video content to discuss topics and products that fit into your wheelhouse and then direct viewers to make a purchase by clicking a link in your video description.
Unboxing videos, in which a YouTuber does nothing more than open up a new purchase online, have become very popular, with Medium reporting that 1 in 5 consumers have watched an unboxing video. In the example below from Unbox Therapy, a gold-plated iPhone is released from an opulent, luxury case from De Billas.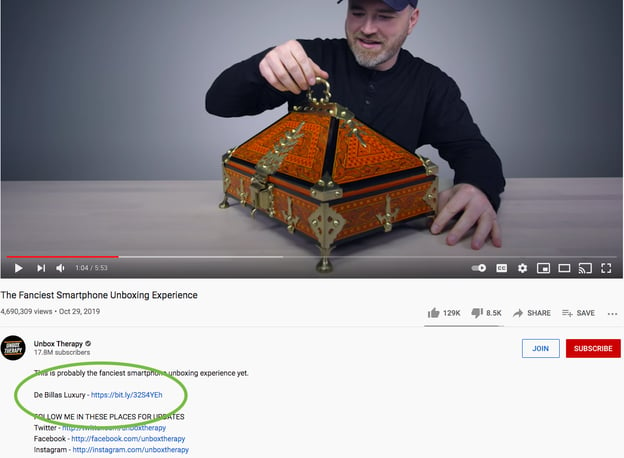 In the capture above, you can see the link to purchase the item circled in green. Upon clicking, you're taken to the De Billas website where you can purchase the phone for $2,399. Probably a pretty nice affiliate marketing commission attached to that!

3. Reviews/Comparison Websites
Just like our website platform search query earlier, review/comparison sites are a great way to get into affiliate marketing. Consider all the different products you use regularly in your personal and professional life. By sharing your opinions and recommendations with reviews and comparisons, you can help people make more informed purchasing decisions and earn yourself some commission. Dog Gear Review is a great site for pet parents who want to compare products made for their best friend.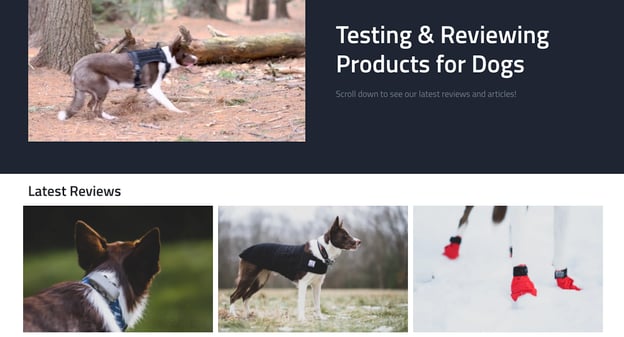 Dog Gear Review does a great job of providing detailed reviews about everything somebody would want to know about the products they promote. They even include testing videos and demonstrations. In addition, they regularly write blog content to improve their rankings in search.
4. Coupon Websites
Coupons have always been a major player in affiliate promotions. By helping your audience obtain discounts on specific products, you can earn a commission. Cashback portals, such as Rakuten or RetailMeNot, have really taken off. When a customer makes a purchase from an affiliated retailer using the portal, the portal splits the commission, giving a percentage back to the customer and keeping the rest for itself.
While giving away part of your commission may not sound ideal, if you're consistently delivering the best discounts to your audience, you'll build a loyal following and can really cash in.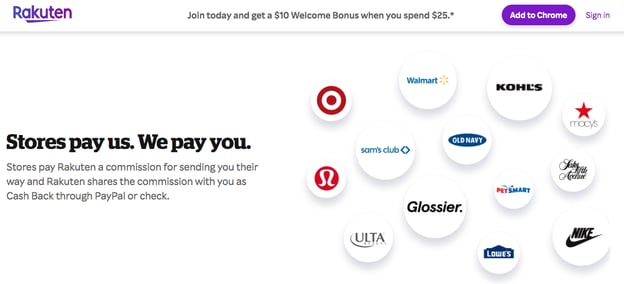 5. Webinars
Live streaming a webinar on YouTube, Facebook, Twitch or any other streaming platform is becoming an effective way to build an online audience. You could create a webinar about how to use some new gadget, how to eliminate debt, how to change your own car oil, and then include a link where a product or service you mentioned can be purchased.
Beauty webinars, for example, are booming. Known as "Beauty Vloggers," these influencers offer webinar tutorials demonstrating how to properly apply cosmetics, create different hairstyles, and how to dress in style. With more than 11 million subscribers, Zoella is a popular beauty vlogger. In this webinar, she discusses a variety of makeup brands, and then posts her affiliate links in the video description.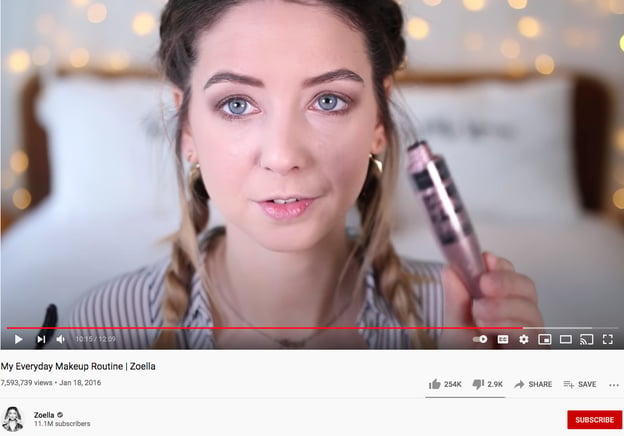 Affiliate Marketing for Beginners with The Fulfillment Lab
There's a good chance your company ships products to customers. If so, why not join The Fulfillment Lab's affiliate program? All you have to do is promote shipping fulfillment through our company on your website! Simply sign up online to receive a unique code that can be easily shared with your contacts. Then, once one of them creates an account using your affiliate code and begins shipping with us, you'll get credit and start earning commissions. Plus, you'll continue to earn commission every time they ship through us.
That's not all; you'll be benefiting your contacts by putting them in touch with the best fulfillment company on the planet! To learn more, book a strategy call with one of our affiliate marketing experts.