Sourcing Private Label & White Label Products Manufacturer + Examples
Private label and white label brands have become big business! Today, these products account for more than 20% of consumer packaged goods at U.S. retailers; in some retail channels, such as grocery stores, that number even skyrockets to almost 60%.
That's not all. Nielsen data shows that across more than 60 countries, these products are gaining ground, while manufacturer-branded products are witnessing a decline. So, how do private labeling and white labeling work and how can you take advantage of them?
What is a Private Label Product?
Private labeling is when a retailer has goods made by a third-party manufacturer under its own unique brand. The product being private labeled is sold exclusively to that retailer. An example of this would be Great Value products at Walmart. Walmart pays a food manufacturer to make products under the Great Value name, and they are sold exclusively through Walmart.
Why wouldn't a retail giant like Walmart just manufacture their own product, you may be wondering. Often, retailers pay less for their products by using private label manufacturers rather than producing all their own goods, with some estimates saying they receive about 10% higher profit margins.
A few other things to understand about private label agreements:
The retailer defines any changes or variations they want to make to the product (e.g., ingredients, composition, package quantity, etc.) to differentiate it from the manufacturer's generic version.
The retailer controls the design and packaging of the product (the manufacturer often provides this as a service).
The retailer owns the trademarks and brand identity associated with their private label products.
The manufacturer controls the production process but cannot sell an identical product to other retailers, keeping it unique in the marketplace.
What is a White Label Product?
With white labeling, a manufacturer creates a generic product designed to be used by multiple retailers. Each retailer can then brand the product as their own, even though it's the exact same product as other retailers are selling.
An example of this would be Kirkland-branded products at Costco. Unbeknownst to many people, there are a lot of Kirkland products white-labeled by popular brands. So, if you're willing to buy in bulk, you can save by buying Kirkland batteries (made by Duracell), Kirkland tuna (made by Bumblebee), Kirkland vodka (made by Grey Goose), and so on.
While white labeling may be used by large retailers like Costco (their Kirkland white label products are valued at a whopping $75 billion). However, white labeling is also a great way for small startups to quickly get products to market or expand upon their core line of products without making a large investment.
A few other things to understand about white label agreements:
The manufacturer controls the product's characteristics, components, ingredients, and manufacturing details.
The retailer controls the design of the packaging and branding of the product (which the manufacturer may provide as a service)
The retailer owns the trademarks and brand identity associated with the white label products they purchase.
The manufacturer controls the production process and may sell an identical product to other retailers, which could increase competition in the marketplace.
Did you know? Before vinyl records were released to the general public, promotional copies without the final printed artwork were sent to DJs in a white sleeve. DJs would play these "white-labeled" records to drum up interest and enable record producers to forecast demand. And with that, the term "white label" was created!
Great Examples of Private Label and White Label Products
We've included some examples of private label and white label products in the sections above, but let's take a closer look at some really great examples of these models.
Amazon Private Labels
Amazon is a great example of the benefits of using a private label manufacturer. The eCommerce behemoth has roughly 400 private label brands for more than 240,000 products. The company's top five private label brands are AmazonBasics (home goods and office supplies), Amazon Collection (jewelry), Amazon Essentials (affordable clothing), Pinzon (bed and bath), and Solimo (personal and pet care). Their portfolio of private labels makes them highly competitive in search results, as the company regularly gives space to its own merchandise over sponsored ads and organic search.
Dollar Shave Club White Labeling
On the other hand, Dollar Shave Club is a great example of white labeling. While many people don't realize it, Dollar Shave Club sourced a white label razor that was available to any retailer that wanted it; however, what they did next made all the difference. They developed a shipping model that hadn't been used before, which built their brand. In 2016, with sales approaching $200 million, this small startup with its white label razors sold the company to Unilever for $1 billion!
Technology White Labeling
White labeling is also becoming increasingly popular in the technology space, where "software-as-a-service" is all the rage. In this white label model, tech companies wanting to offer a particular software without the expense of manufacturing or coding it in-house can outsource to a white-label software company. They get to put their logo and trademarks on it and treat it as their own, but the software's IP is owned by another business and identical software can be sold to other companies.
Private Labeling and White Labeling: What's the Difference?
We've laid out the differences between private labeling and white labeling in the sections above, however this handy chart breaks down the differences in an easy-to-view format.
| | | |
| --- | --- | --- |
| Considerations | Private Label | White Label |
| Product Customization | Yes | No |
| Exclusivity for Retailer | Yes | No |
| Brand Control | Retailer | Retailer |
| Packaging Control | Retailer | Retailer |
| Trademark Control | Retailer | Retailer |
| Manufacturing Control | Manufacturer | Manufacturer |
| Average Speed to Market | Slow | Fast |
| Average Investment | High | Low |
Can White Labeling Be Co-Branded?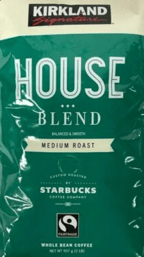 Sometimes, you may see a product with two sets of brand names. This is an example of co-branding, not white labeling.
So come on back to Costco. While you can't tell that most Kirkland Signature products are made by another company (many of these companies don't want it known), Kirkland Signature Coffee displays their logo plus the Starbucks logo, the original manufacturer.
This method effectively leverages the brand power of the more popular brand to drive sales for both the retailer and the manufacturer.
What Customers Are Saying...
Customers love private label brands and white label products because some of the retailers' savings are often passed on to them. And, perceptions of these products are changing. Today, many consider the quality to be as good as manufacturer-branded products—and getting better. Here's a look at consumer perceptions about private labels as reported by Nielsen.
65% think private labels are a good alternative to name-brand products.
71% have a better impression of the quality of private labels than they used to.
67% think private labels are usually an extremely good value for the money.
65% think private labels are a good alternative to name-brand products.
58% think they're shopping smarter when they choose private label brands.
Sourcing White Label and Private Label Manufacturers
Now that you have a better understanding of the differences between private label vs. white label products, are you ready to get in on the action? Your next step will be to source the product. Ultimately, you need to be able to find a manufacturer that understands the product(s) you intend to sell, and can produce them cost-effectively while maintaining a high standard of quality.
One of your first considerations may be whether to go with a domestic or overseas manufacturer. While many companies like to keep their operations within the United States (and "Made in the USA" is certainly a big selling feature for some products), it's often cheaper to source products overseas. However, cheaper isn't always better, as you'll also need to consider shipping time, quality control, cultural differences affecting business practices, tax implications, and importing and exporting laws and regulations.
Whether you stay local or go global when sourcing, you need to be sure you can trust your white labeling or private labeling manufacturer. So, you'll want to do each of the following:
Request a product sample to determine quality
Verify acceptable delivery time and product condition
Consider total manufacturing costs (and check for any hidden fees)
Review policies on management of product defects and damaged goods
To begin your search, you may want to try online directories like Alibaba, Maker's Row, or ThomasNet. You might also check out websites like Quora and Reddit to find referrals, reviews, and conversations surrounding manufacturers to verify their reputation. Of course, a referral from someone in the industry is often your best bet!
Private Label and White Label Products at The Fulfillment Lab
If you're wondering how to find a private label manufacturer or a white label manufacturer and searching directories isn't your thing, then look no further than The Fulfillment Lab. Our unique global on-demand fulfillment portal allows you to quickly add new white and private label products to your line without any upfront costs or wait time.
With The Fulfillment Lab, you can create your product offering, instantly add complementary products, build a customized label, and start selling right away. This can save you from investing thousands of dollars into a product before you ever know if it will take off, and you won't have to worry about fulfillment—we do it all!
Plus, we rely on overseas manufacturers to save you money; however, we know the ins-and-outs of intellectual property rights, product certification, customs procedures, and product quality, offering you peace of mind.
Read more about our on-demand private label and white label fulfillment services and view a quick video on our website. Then, contact us to get started!