What is Affiliate Marketing? 5 Benefits & 5 Best Affiliate Programs
Even if you're not yet reaping the rewards of affiliate marketing, you've undoubtedly heard of it. That's because, according to Forbes, the category is now responsible for more than 15% of e-commerce sales, putting it on par with email marketing and ahead of both social commerce and display advertising as a driver of e-commerce transactions.
So, just what is affiliate marketing, and how does it work? And, is it right for you? In this blog, we answer your burning questions!
What is Affiliate Marketing?
Affiliate marketing (sometimes also referred to as an associate program or referral program) is similar to a referral program. To describe affiliate marketing in a nutshell, we haven't found a more concise explanation than this one offered by Pat Flynn, the founder of Smart Passive Income (SPI):
"Affiliate marketing is the process of earning a commission by promoting other people's (or company's) products. You find a product you like, promote it to others, and earn a piece of the profit for each sale that you make."
The concept of affiliate marketing programs is based on revenue sharing. If you have a product and want to earn more, you can promote complementary products or services of another company that will, in turn, pay you for your referrals. Of course, Affiliate Marketing for Dummies is always available online, but it's probably not necessary!
What is eCommerce Affiliate Marketing?
eCommerce affiliate marketing simply adds the online element to affiliate marketing. When an online merchant promotes another company's products, services, or website on their own website, they earn a commission. It's really that simple!

Today, ecommerce affiliate marketing is an increasingly popular tactic that is being used to drive additional sales and generate online revenue that is beneficial to both brands and their affiliate marketers. This has led more and more businesses to join affiliate programs—in fact, 81% of brands now leverage the power of affiliate marketing!
As far as how much you can make as an ecommerce affiliate marketer, the sky's the limit. Perhaps you simply want a steady, reliable income (a lot of affiliate marketers are happy to earn around $20K per year). That's great! Or, you can go all in, like Jason Stone. He got started in 2014, and today he's amassed an incredible six million followers, earning himself the nickname the "Millionaire Mentor." It's all up to you!
How Does Affiliate Marketing Work?
Affiliate programs can be structured in a number of ways. However, most programs involve a company providing their affiliate partners with a unique trackable code that can be shared with their customers and clients. Each time the code is used to make a purchase, the affiliate is rewarded.
There are three common commission structures for affiliate programs:
Purchase-Based Commission Structures. The affiliate partner gets paid when someone uses their code to make a purchase on the merchant's website.
Traffic-Based Commission Structures. The affiliate partner gets a commission based on the number of people they refer to the company's website—regardless of whether those visitors make a purchase or perform some other action.
Customer Acquisition-Based Commission Structures. The affiliate partner gets paid when their promotion helps the merchant close a new deal or sign a new customer.
One of the most popular affiliate programs out there is the Amazon affiliate program, dubbed "Amazon Associates." This affiliate marketing example follows a commission-based structure. Website owners and bloggers can sign up for free to become an Amazon Associate, where they advertise Amazon products on their site by creating links. Then, whenever one of their customers or site visitors clicks a link and buys a product from Amazon, they'll earn a referral commission.

Benefits of Joining an Ecommerce Affiliate Program
Why would your ecommerce business want to join an affiliate program? There are many advantages of affiliate marketing—here are just a few top ones.
1. Create an Additional Revenue Stream
Joining an affiliate program is a fast and simple way for ecommerce businesses to open up an additional revenue stream—and what business owner wouldn't want to increase their overall revenue? With a referral program, each time one of your contacts makes a purchase from your affiliate partner, you'll earn an affiliate commission. So, by simply marketing their products or services on their behalf and referring your contacts to them, you can watch the additional income start rolling in! Be sure to check out our blog, 5 Best Affiliate Marketing Tips That Will Earn You More Money.
2. Differentiate from Other Online Retailers
There is a lot of competition in the ecommerce space, and joining an affiliate program can help you differentiate yourself from competitors by making it possible to provide your customers with additional value. You'll be able to connect them with the products and services that your affiliate partner offers—without having to take on the effort, cost, and hassle of providing them yourself. Your customers will be happy when they can get a recommendation for a product or service they need from someone they trust, saving them the time and effort of having to find a partner themselves. Beyond just earning affiliate commissions, this can help you earn higher customer satisfaction scores!
3. Broaden Your Audience
There are affiliates in just about every market and product category. So, whether you're looking to make a name for yourself in retail or carve out a niche in the woodworking world, there's a relevant website to align with. What's better, is that many of these affiliates will already have an established visitor base. This gives you the opportunity to get yourself noticed within their circles with little effort or cost. You can even start to think of these partners as an extension of your current marketing or sales team!
4. Scale Your Business with Ease
Modern ecommerce business owners are always looking to grow their customer base, boost revenue, and make constant improvements so they can keep up with shifting consumer preferences and stand out from the competition. Joining an affiliate program can help! When you open up a new revenue stream through referral commissions, you can use that additional revenue and cash flow to grow your business.
For example, you could create new products, purchase new tools that can be used to improve your business processes, or implement software that will enhance the way you're able to connect with your customers. This will enable you to make improvements that grow your business and better satisfy your customers!
5. Join an Affiliate Network of Like-Minded Businesses
An affiliate network can be a great place to connect with other like-minded business owners and make valuable professional contacts. When you join a community of businesses that are dedicated to helping each other increase their customer base and boost revenue, you can reach your business goals faster, attract more customers, and see higher profit margins while helping other companies do the same. It's a win-win for everyone!
5 Best Affiliate Programs for Ecommerce Businesses
Now that you know some of the benefits of ecommerce affiliate programs, which should you join? Remember, it's important to choose an affiliate program that is aligned to meet the goals and needs of you and your customers. With that in mind, along with the aforementioned Amazon Associates program, here are just a few ideas of where to start looking.
1. The Fulfillment Lab (That's Us!)
The Fulfillment Lab's affiliate program makes it easier than ever to connect your audience with the perfect fulfillment partner. All you have to do is sign up online to receive a unique code that can be easily shared with your contacts. Then, once one of them creates an account using your affiliate code and begins shipping with TFL, you'll get credit and start earning commissions. Plus, with volume-based shipping methods, you'll continue to earn lifetime referral commission every time they ship through TFL!
2. The Shopify Affiliate Program
Under Shopify's affiliate marketing program, you can earn affiliate commissions for each user who signs up for a paid Shopify plan with your unique referral link. You'll be able to save time and money on having to create content yourself by linking to blogs, webinars, video tutorials, tools, and automated funnels developed by Shopify for your use. It's a great affiliate program for ecommerce business!
3. Bluehost
The Bluehost affiliate program is very popular for web hosting due to its low-cost plans ($2.95/month) and high commissions (one-time payouts start at $65 or higher).
By promoting Bluehost, bloggers and merchants enjoy high conversion rates and gain access to text links and banners to promote the platform. In addition, their affiliate managers are known for providing excellent customer service and support!
4. eBay Partner Network
The eBay Partner Network enables you to advertise eBay products on your ecommerce site, social media platforms, blog, or website. You'll get affiliate commissions from every product sold via your link, and there is a nearly endless supply of interesting products to promote, including popular trending products and daily deals.
5. Fiverr Affiliates Program
Fiverr is one of the world's largest digital service marketplace with over 11 million users in 190+ countries. With the Fiverr Affiliates Program, you'll get paid for every first-time buyer with no referral limit and a lifetime attribution. This provides a lot of value to your customers because you can connect them with any freelancers they may need when their internal team is over capacity or they need additional help during their busiest seasons.
Starting an Affiliate Partnership with The Fulfillment Lab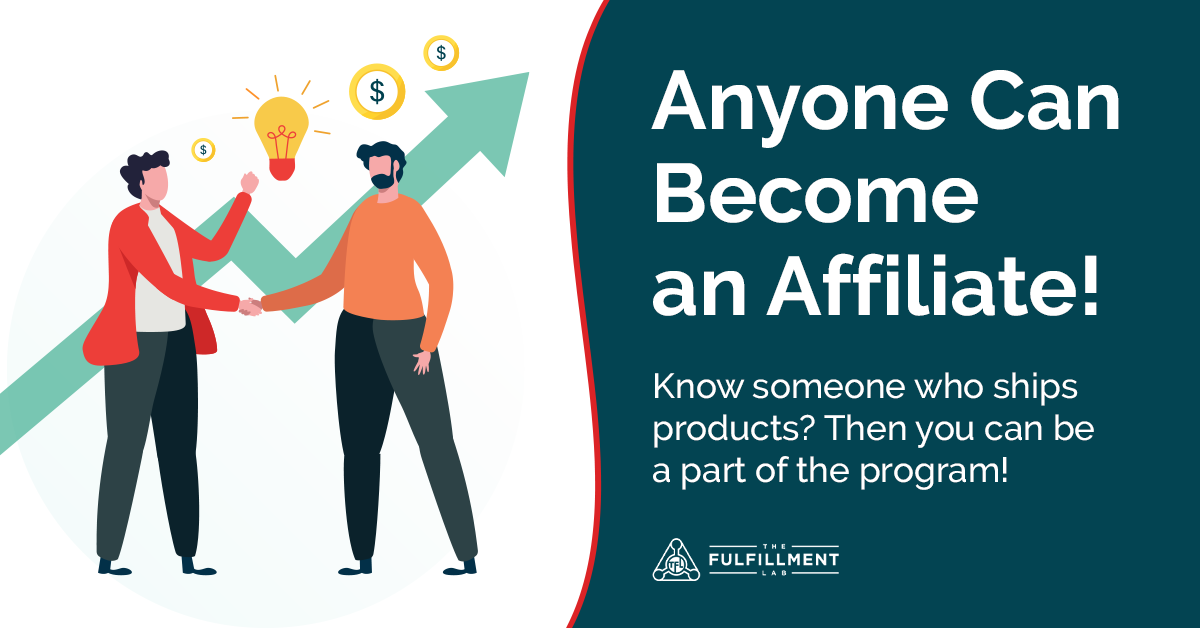 While an affiliate partnership is an undeniable draw for those looking to increase recurring residual income online, you're unlikely to find success unless you're joining a reputable affiliate program. After all, you'll only earn the high commission you're looking for if your customers actually want to buy from the company you're referring them to!
That's why The Fulfillment Lab created its referral program with you and your customers in mind. But what makes ours different from the rest? Here are three key reasons why entering into an affiliate partnership can result in additional value and higher profits for everyone involved.
1. It's Easy to Start Earning
We know you and your customers are busy, which is why we've created an affiliate program focused on speed and ease. Once you sign up, you'll receive free resources that allow you to market and sell our services with ease, right to the contacts in your database.
Once signed up for our services, your customers will experience the same simple processes and fast results. Our proprietary fulfillment software allows them to start utilizing our fulfillment capabilities in a matter of moments, not days.
2. Everyone Involved Drives Additional Profits
An affiliate partnership with The Fulfillment Lab is a streamlined way for all parties involved to drive additional revenue. Once you've passed along your referral to your contacts and they sign up, your work is done. With mass volume profit sharing, you'll continue to earn lifetime commissions each time they ship, meaning an additional revenue stream for you without any additional effort!
Signing up for our fulfillment services will also result in higher profit margins for your customers. Using our on-demand service capabilities, they can quickly add branded products that complement their existing line—without having to purchase or store them themselves. They can also create customized packaging that aligns with their brand to create a more personalized experience that keeps customers coming back.
3. Our Affiliate Support is Second to None
Our affiliate partnership is unique because it's just that—a partnership. We know that if we all work together, everyone can achieve more and meet their business goals sooner. We're always available to chat or assist you when needed, which is why we hold regular meetings with our affiliate networks to ensure we're all on the same page and gaining additional value that leads to quick wins. You can book a meeting with Jelani at any time to discuss.
Our success means your success, and by joining our affiliate partnership, we can all get there faster—and together! If you're interested in starting a valuable affiliate partnership with the Fulfillment Lab, reach out to us today!